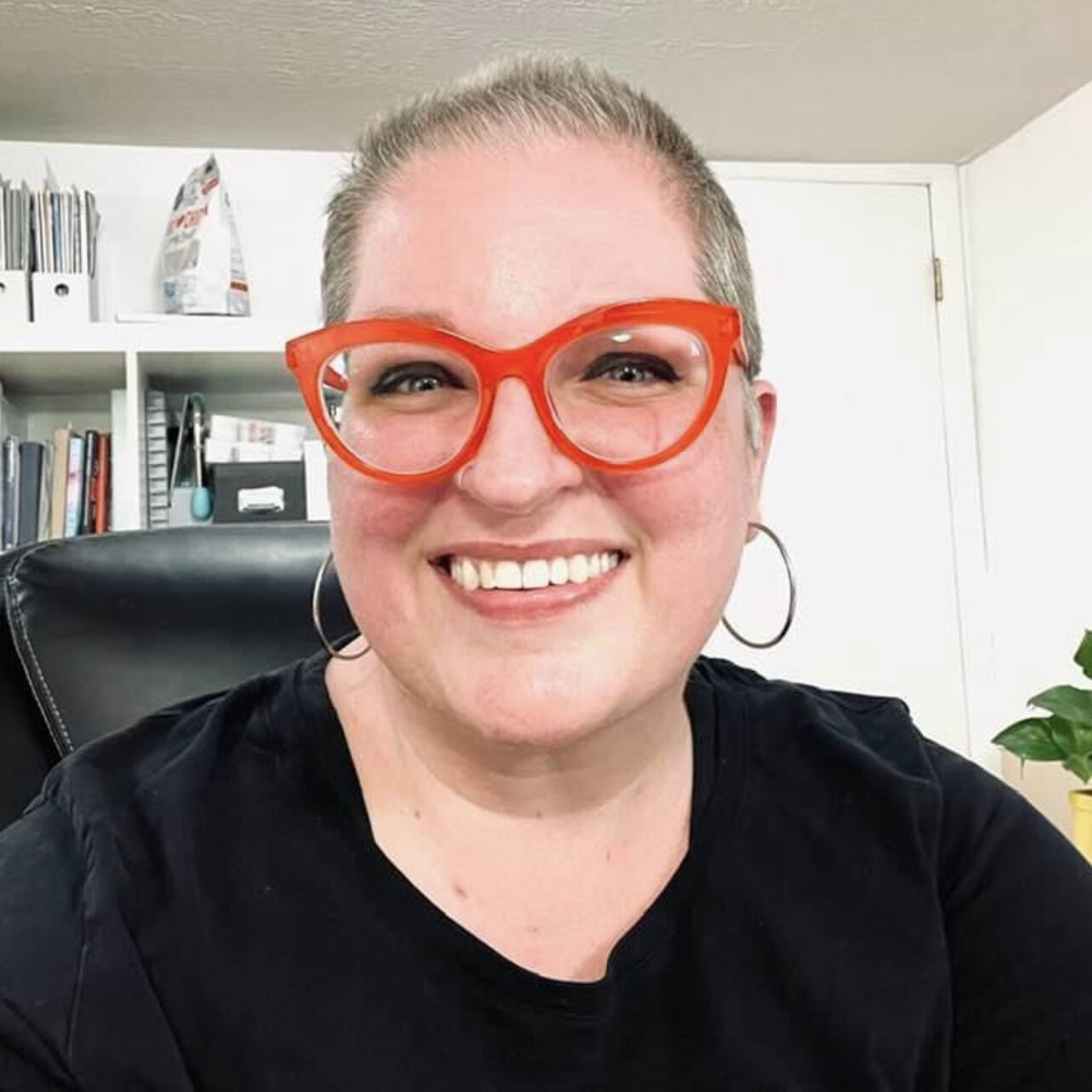 About Me
Growing up, I always wanted to work closely with people and witness their growth and triumphs. At the same time, I was drawn to many forms of creativity. When I learned that there was a profession called art therapy, I knew I had found my calling. I'm credentialed in both talk therapy and art therapy, and work with you to find the best configuration to help you reach your goals. 
I've worked in dozens of settings with thousands of people, and have even become a professor in my field, teaching young therapists to step up and do the same.
What does that mean for you?
I've got over two decades of meeting people where they're at, making a safe place for them to try new things, and empowering them to make crucial changes in their lives. It means that when you tell me your story, it's unlikely to spook or scare me. It means that I've got lots and lots of ideas about how things can change, and how you can find the answers you're looking for. It means that I specialize in creating an open and non-judgmental space to truly understand you, your life, your family, and your needs.  
While all therapists are unique, and there are dozens of theories behind therapy, what's most important is to find a "good fit" with your therapist. My style of therapy is client-centered and insight-oriented. This means: 
You and I work in partnership

 

to formulate goals that make sense for

 

you.
I approach problems with a

 

respect for your choices and a belief in the power of personal change.
I avoid "quick fixes" that may not have

 

long-lasting effects.
About Art Therapy
Art therapy is a mental health profession that uses the creative process of art-making to improve and enhance the physical, mental and emotional well-being of individuals of all ages. It is based on the belief that the creative process involved in artistic self-expression helps people to resolve conflicts and problems, develop interpersonal skills, manage behavior, reduce stress, increase self-esteem and self-awareness, and achieve insight. (According to the American Art Therapy Association)
Art is a unique form of communication. No other language allows you to say lots of things at the same time! In art therapy sessions, you'll be invited to verbally and visually express your thoughts and feelings. This can lead to deeper exploration of issues impacting your life.
In my experience with clients, art-making in therapy is not the only way to uncover and explore thoughts and feelings, but it can be one of the most effective ways. Even if you feel you are not artistic or think it's a waste of time, I encourage each of my clients to try creative expression in their sessions at least once. Art supplies will always be available to you in session, whether you choose to use them or not.
It's important to know that whether you are expressing yourself verbally or visually, you will be doing so in a safe, supportive environment without judgment or criticism. Not all of our thoughts or feelings are "pretty" — expressing them doesn't always look pretty, either.
Art Therapy is recognized as an Allied Health Profession. Although many healing professionals utilize creative techniques in their work, art therapists have highly specialized training in art therapy. Anyone calling themselves an art therapist must have received a certain number of supervised post-graduate hours and be certified by the Art Therapy Credentials Board. You can check credentials through the Art Therapy Credentials Board Verification Service.
About Therapy
The word therapy can be confusing because it describes a wide range of services. Sometimes called counseling, "talk therapy," or analysis, therapy is the process of working through emotional, relational, and thought-process problems in the context of a relationship with a trained counselor or therapist.
Television and movies have portrayed therapy in a myriad of interesting (and largely inaccurate) ways, but the process of therapy is more than just talking about problems or getting advice. That's what friends are for! A good therapist will listen, ask questions, and strive to understand you and your life in a non-judgmental way. Then, she will use her specialized knowledge of human nature, personalities, relationship dynamics, and stressors to help you make changes in your life.
Click below for further reading online:
About Finding the Right Therapist
Thanks to the way helping professions are often portrayed in popular media, many people think of therapy as something mysterious and magical which (even though it costs money and takes time) should not be questioned too much. Therapists are seen as all-knowing mind-readers or bumbling narcissists who don't really care about their clients. Not really.
But the truth is that therapy — like any other major decision — requires work and understanding. It's a big commitment, and it shouldn't be entered into without understanding what you're getting to some degree.
I want my clients to feel like informed consumers. I want to make it as easy as possible to learn about me and my services. Most of us wouldn't buy a car without studying up, comparing different models, and test-driving a few options.
Therapists, like everyone else, are individuals. We have our training, supervision, and years of experience, yes, but we also have unique personalities, styles, quirks, and even faults. However, most people choose their therapist by asking what insurance is covered, where their office is located, and if they have immediate openings.
I want you to find a therapist that you really love to work with, whether it's me or not. That's why I offer a free 30-minute consultation.
About My Education and Experience
Credentials
ATR-BC (Registered and Board-Certified Art Therapist)
LMFT (Licensed Marriage and Family Therapist)
ATCS (Art Therapy Certified Supervisor)

 
Education
BS in Family Science from Brigham Young University
MA in Marital and Family Therapy and Clinical Art Therapy from Loyola Marymount University
Additional Trainings
DBT (Dialectical Behavioral Therapy, Intensive 2-week Training)
RO-DBT (Radically-Open Dialectical Behavioral Therapy)
EMDR Therapy (Eye Movement Desensitization and Reprocessing)
IFS (Internal Family Systems)
EFT (Emotionally-Focused Couples Therapy)
ERP (Exposure Response Prevention)
ACT (Acceptance and Commitment Therapy)
Experience
Professor at University of Utah (Master's in Social Work program), Westminster College (Undergraduate Psychology), and PennWest Edinboro (Master's in Counseling – Art Therapy)
Therapist in Community Mental Health (Outpatient) Clinics
School-based Therapist (Elementary and High Schools)
Director and Art Therapist in Medical/Pediatric Hospital
Director, Art Therapist, Primary Therapist in Residential Treatment Center
Private Practice (2008-present)
Supervision (2007-present)